MUQDADIYAH, Iraq - Hussein Maytham and his family were driving past the palm tree grove near their home after shopping for toys for his cousins when their car hit a bomb planted on the moonlit road.
'I only remember the explosion,' Maytham, 16, said from his hospital bed, his pale arms speckled brown by shrapnel. The attack took place earlier this month in the Shiite-majority village of Hazanieh. The force of the blast hurled the teenager out of the vehicle, but his family - his parents, an aunt and three cousins - perished in the fiery aftermath. Residents say gunmen hidden nearby in irrigation canals opened fire, killing two others.
This is the latest in a series of attacks witnessed over the last month in the central Iraqi province of Diyala, located north and east of Baghdad. Security officials say at least 19 civilians have been killed by unidentified assailants, including in two targeted attacks.
The violence is pitting communities against each other in the ethnically and religiously diverse province. It also raises questions whether the relative calm and stability that has prevailed in much of Iraq in the years since the defeat of the extremist group Islamic State can be sustained.
Iraq as a whole has moved on from the conditions that enabled the rise of the Islamic State group and the large-scale bloody sectarian violence that erupted after the U.S.-led invasion 20 years ago, according to Mohanad Adnan, a political analyst and partner at the Roya Development Group.
Jassem Ismail shows photos of his two children who were killed when a car they were in was hit by a planted explosive earlier this month, in his home in Muqdadiyah, Iraq, March 22, 2023. It is not known who carried out the attack.
But some parts of the country, including Diyala, remain tense, with occasional waves of violence reopening old wounds.
'There are a few villages, especially in Diyala, where they have not overcome what happened in the past,' said Adnan.
Officials, residents and analysts say at least one instance of violence in Diyala appears to be a sectarian reprisal by Shiites against Sunnis over an IS-claimed attack. But they say other killings were carried out by Shiites against Shiites, as rival militias and their tribal and political allies that control the province struggle over influence and lucrative racketeering networks. Diyala, bordering both Iran and Iraq's autonomous Kurdish region, is a prime conduit for smuggling, including drugs.
The Iranian-backed Badr Organization, a state-sanctioned militia within the Popular Mobilization Forces with a political wing, wrested control of the province from IS in 2015. Since then, it has asserted its dominance over several Shiite political parties and their associated paramilitaries, as well as Sunni groups.
Although most Sunni residents displaced during the war against IS have returned to the province, they say they are often viewed with suspicion by authorities and neighbors because of their perceived affiliation with the extremists. When remnants of the group attack civilians or security forces, it often prompts a spiral of retaliatory attacks.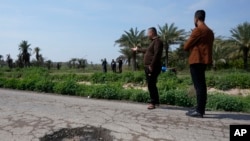 Relatives of people killed in a car by planted explosive visit the scene in Muqdadiyah, Iraq, March 22, 2023. It is not known who carried out the attack. Diyala province has seen a spike in killings.
In the Sunni village of Jalaylah, nine people, including women and children, were killed in a gruesome attack in late February, two months after they were blamed for allowing an IS attack on a neighboring village, according to security officials.
The attackers moved openly through the area, said villager Awadh al-Azzawi.
'They didn't wear masks. Their faces were clear,' he said.
Residents accuse members of the nearby Shiite village Albu Bali, where IS killed nine in December, carrying out the attack in revenge. They say the perpetrators belong to local militias using weapons given to them by the state. Security officials affiliated with the armed groups declined to comment.
Maytham's relatives less readily voice their suspicions of who killed their family members, who were Shiite.
'Only God can be certain who is behind this attack,' said Sheikh Mustaf, the teenager's grandfather, in his reception hall surrounded by guests offering their condolences for the eight killed in the March 3 attack, only describing the attackers as terrorists.
A local leader of the Bani Tamim, one of the most prominent Shiite-majority tribes in Diyala, Sheikh Mustaf has called for calm. But tribe members say their weapons are ready if authorities do not bring the assailants to justice.
Prime Minister Mohammed Shia al-Sudani visited Diyala days after the attack, sending military reinforcements to the area. Several have been arrested on terrorism charges, and caches of weapons, including mortars, missiles, and ammunition, have been uncovered, according to the security media cell.
A provincial security official, speaking to The Associated Press on condition of anonymity because they were not authorized to brief the media, said, 'what is happening in Diyala is not only terrorism' - a term generally used for attacks by Sunni militant groups like IS - 'but also a struggle for influence between armed factions linked to political blocs.'
Experts say internal rifts are emerging within the Bani Tamim clan, who are split in their support among the competing forces of the Badr Organization, the movement of influential Shiite cleric Muqtada al-Sadr, and the Iranian-affiliated paramilitary group Asaib Ahl Al-Haq.
'There is a struggle within the tribe in order to impose power and to obtain important positions in Diyala, positions in the Diyala government, and security positions,' the official said.
Iraq analyst Tamer Badawi, a doctoral researcher at the University of Kent, said armed groups are also carrying out attacks to destabilize the area and undermine a crackdown launched by the government against smuggling networks that they have operated for years.
Residents of Diyala say regardless of the cause of the attack, they feel unsafe and blame Iraqi authorities for letting the attacks happen.
'This is terrorism,' said Azzawi. 'It's not about tribes, or sectarianism, it's terrorism.'